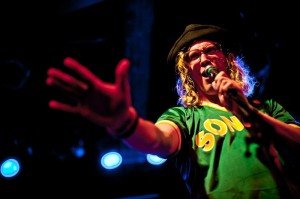 By Timmy Held 
tgraceband.com / fakelabelrecords.com
The indecipherable hum of multiple conversations fell as I approached Raw Space. The first intelligible words I heard were "sold out". Luckily for me, Seth (from Open Country Joy and Raw Space employee) asked me if I would write a review for their website. The incentive was a spot on the guest list with a plus 1 so I was elated to hear that they were at capacity. "I am so glad Ellensburg finally has a music scene" I thought to myself as my uncle and I ordered a Light Rail and waited for the show to start.
Ellensburg is an unassuming place to have a legitimate concert venue. With the population just over 18,000, consisting heavily of farmers and cowboy types one would imagine the music scene would be restricted to grandpa's front porch. But thanks to Raw Space it is a great way for bands to get exposure to an audience who is very serious about their show going but gets limited opportunities to see live shows. And while having a University a few blocks away helps with attendance, the local crowd is just as supportive and is instrumental in keeping the venue booked and open for business.
As expected the crowd varied in the phenotypic expression of their sub-cultural subscriptions. Brosephs, hipsters, bohemians, hipster-bohemian hybrids, hippies (not to be confused with bohemians), granolas (not to be confused with hippies), yuppies, jocks, and horse-chicks all piled into the same room because of one 24 year old man from Chewelah Washington.
If you have not been paying attention to the music scene of the Pacific Northwest for the last few months then this may be the first you have heard of Allen Stone. The son of a minister, he began singing in the church choir at a very young age. Heavily influenced by soul music, he emulated his favorite singers and made quite an impression on the congregation with his ability to hit the high notes. What makes his seemingly complete mastery of his voice all the more impressive is that he is self-taught. Most great singers spend thousands and devote hours of their life to lessons with a vocal coach and still do not touch the floor below the ceiling through witch Stone has blasted. Imagine the voices of Stevie Wonder and Justin Timberlake and the spasmodic stage presents of Joe Cocker programmed into a body genetically engineered from Macaulay Culkin and the oldest Hanson brother wearing giant orange fames fitted with thick lenses. Actually scratch that, just go look on you tube for one of the many outstanding live performances varying from The Conan O'Brien Show, to the KEXP studio, to his mother's living room for a more appropriate introduction.
The show was awakened like Frankenstein's monster by a bolt of electricity titled "What I've Seen", the 3rd track from Stone's latest self released Self-Titled album. The dance party had commenced and the crowd was instantly in the palm of Stone's hand. Front row fingers feverishly fluttered, beseeching a momentary connection with soon to be soul icon as he danced and sang the chorus of this funk-infused song. "This is the real thing", I thought in quiet amazement.
Now, I imagine that Allen and his band could play through just about any PA and sound spectacular, but I want to take a moment to speak to the
exquisite sound system in Raw Space and the mad genius at its helm: Matt Woodard. Matt was kind enough to let me watch the show from the sound booth. Here I got an excellent view over the heads of the crowd and also to watch Matt at work. With a minor tweak here and a small adjustment there I got a first hand glimpse into the world of the Sound Guy: the unsung hero of live shows.
As Stone ripped through "Sleep" and "Celebrate Tonight" I wondered whether the crowd, drunk with the desire to dance, had noticed that 3 songs had passed without a hiccup. Flawless performances by not just Allen but every member of his 7-man band. I realized then that while I have seen many great shows, I have rarely seen such finesse and faultlessness in a live performance.
Just as I laughed at the fact that smart phones have replaced lighters as the audience's torch Stone offered up a question to his band in a bombastic voice;
Stone: "You know what I am sick and tired of!?"
Band: "What!?"
Stone: "I am sick and tired of soul music lookin' so crisp and clean!"
Band: "Why!?"
Stone: "Because my soul!"
Band: "Yeah?"
Stone: "I said my soul is just a little bit greasy"
Then for the first time that night, Stone displayed actions that reminded me that a minister raised him. Like Moses parting the Red Sea, the strawberry blond headed vocal powerhouse demanded that the audience create a two-foot line of unoccupied space down the center of their collected mass. When a few stragglers not so keen on the idea remained in what Stone referred to as "his line" a paternal tone occupied his vocal chords exuding stiff recommendations that they immediately vacate the area. Once "his line" met specs to his satisfaction he declared "Now we are going to have a no holds barred, shake yo ass, nasty dance off. When I count to 4 I want the left side to shake it nasty so gross that I start sneezing!" After the four-count the band ignited into a few measures of upbeat soul-rock as Stone chanted "Get Nasty!" The left portion of the crowd jumped in unison as if they were trying to break through the concrete floor below them. The jam ceases and the band quiets to a soft back-beat for Stone to address the right portion "Now when I count to 4 I want you to get gross up in this bitch. 1…2…3…4!" Once again the soul-rock jam with the same mandating chant "Get Nasty!"  No winner was declared and after a third four count the crowd was again formed into a single multi-cellular organism of nasty ass shaking.
Ever the entertainer Stone did not end the crowd participation there. During "Say So" he invited the audience to join in a call and response bout during the chorus. Ending this simple ear catching tune into a down-tempo cover of Bob Marley's "Is This Love" I took notice of the set structure Stone and his band had created. It was clever and formulaic yet not generic. Far from a haphazard list of songs thrown together in the order of their iTunes popularity, this was a show.
After a lovely rendition of Bonnie Rait's "I can't make you love me", and for the second time of the night, Stone's religious upbringing was made apparent. "Mind if I preach to you a little bit?" He asked the crowd. I felt the chill of impending awkwardness slither up my spine. I was not sure as to what extent his religious views went. He surely did not seem like the type to bring his love for JC to a group of people he just told to "shake their asses so nasty…". I braced myself for the worst. A wave of relief crashed over me as he offered a friendly suggestion that, while they are great tools that he is guilty of using himself, social networking sites such as Facebook and Twitter cannot replace the real interactions of human-to-human contact. The gist: "Looking into another human beings eyes and understanding their pain is more important than retweeting".
After his sermon "Contact High" began and was executed with the same surgical precision as every song preceding it. As the band pounded it's thunderous conclusion Stone announced that there was one more song immediately diving into "Satisfaction". The audience was sent into a frenzy of rhythmic jumping for one of the heavier hitting tracks off of his latest release. The tune grooved its way to a dramatic ending and just as I wondered if there would be an encore, the crowd began demanding it be so before the 8 musicians had even left the stage.
Not a minute later Stone returned with an acoustic guitar. He told the story of his being raised in a very small town by a minister and how his world-view was very narrow until he moved to Seattle at 19. As if describing a pilgrimage, he outlined his experience of growing as a person as he opened his mind to all different walks of life. This story was a perfect introduction to his acoustic rendition of "Last To Speak". If you want to know who Allen Stone is as a person and/or his political and religious views, this song pretty much sums it up. Brilliant in its lyrical content and vocal performance, this is one of my favorite songs from his catalogue.
Following this delightful dip in sonic output the band returned to the stage and a carbon copy cover of Stevie Wonder's "Superstitious" was delivered with expected accuracy. Stone's timbre was so eerily close to Stevie's that I closed my eyes and imagined a young Wonder on stage which provided for a very surreal air to take over my imagination.
Nearly every song played throughout the evening was a showcase of Allen Stone's impossibly perfect singing. So it made sense to end the encore with "Unaware". The chorus of this song is sung in a falsetto that ranges higher than most male singers can reach. So imagine what it is like to watch and hear Stone sing the final chorus at the song's crescendo an octave higher than preceding choruses! Without faltering, a high A was blasted and the audience collectively gasped in awe of the spectacle before them. This was the moment I had been waiting for the whole night. I knew the beast would eventually be unleashed and I had figured it would be in the last few minutes of the set. But I was not prepared for the behemoth that obliterated the preconceived vision that I had conjured earlier that day regarding his monstrous talent.
As my uncle and I made our way down the street and away from Raw Space we discussed how we felt lucky to have been at the show that evening. We both agreed that there is a very likely chance that Allen Stone will soon become a household name. With no label or publicist, only a manager and a booking agent he is already receiving national acclaim. He is the epitome of DIY and I firmly believe that he very well may join the ranks of the worlds greatest soul singers in the not so distant future
Comments
comments
Powered by Facebook Comments