by Greg Roth
On Tuesday, December 11th, the members of one of Seattle's best-known rock bands, Heart, were notified that they would be inducted into the Rock and Roll Hall of Fame as part of the class of 2013. The 28th Annual Rock and Roll Hall of Fame Induction Ceremony will be held at the Nokia Theatre in Los Angeles, Thursday, April 18, 2013. It was an honor that eluded them last year, but deep in our own hearts, we knew that it was only a matter of time that the band would get their due. (Read more about it by clicking the link below…)
Seattle's Heart finally voted into Rock and Roll Hall of Fame
Original members of Heart to perform together at Rock and Roll Hall of Fame? (Photos)
On this week's episode of SMI Radio, we take you inside the green room at Seattle's Q13 Fox for a conversation with 2013 Rock and Roll Hall of fame inductees, Roger Fisher and bassist Steve Fossen.
They discuss how it feels to be recognized by their peers for their significant contributions to music. They also talk about their long-term friendship that dates all the way back to junior high and what inspired them to be musicians. In addition, the two artists share their feelings on what it will be like to stand on the podium with their former bandmates to accept the special honor.
For past episodes of SMI Radio on the go, click on any of the icons below…
I interviewed Roger earlier in the year to talk about his solo project "Love Alive"
Eternal Fair front man Andrew Vait joins us for the second half of the show. The band is in the home stretch of raising funds for their new record via Kickstarter, and plans to
Andrew talks about a big show that they will be performing with Hot Bodies In Motion and Motopony, as part of the Everett Music Initiative. The show will take place on Saturday, January 19th, at the Anchor Pub in Everett. (Go here for tickets.)
Next, we hear from Julie Mains, lead singer for the Christmas power-pop outfit, The HoHoHos AKA The Juliettes.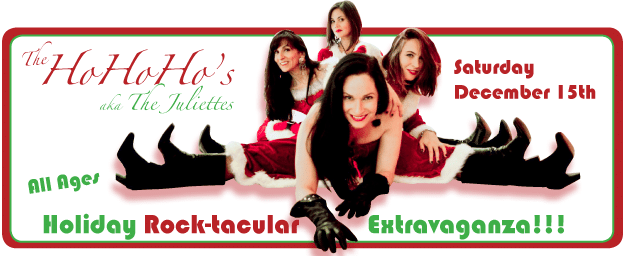 The band is playing a special show this Saturday, December 15th, at The Rec Room in Everett, and will be broadcast live on NWCZRadio.com starting at 7pm. Presented by Femination Media, the show will be MC'd by SMI Managing Editor, Jennifer Austin. Northwest Convergence Zone's Darryl Fortune and I will host the broadcast on NWCZ. (Tickets are here.)
Comments
comments
Powered by Facebook Comments